Replace your missing teeth with Dental Implants in Blackburn & Darwen…
Are you considering a Dental Implant? Darwenside Dental Practice provides Dental Implant treatment to patients (both registered and non-registered) across Darwen, Blackburn, Bolton & Lancashire…
Dental Implants can be used in several ways to make your smile whole again; they are dentally considered the best solution for missing teeth – no other dental treatment comes as close to recreating the look, feel and function of your natural teeth.
High-tech and minimally invasive, implant surgery involves placing a titanium post in the jaw bone, which mimics the role of a tooth root and supports a definitive aesthetic crown, bridge or even denture.
From a Single Tooth Implant to Implant-Retained Dentures to Full Arch Dental Implants – our experienced Implant team has you covered.
Discover more about getting Dental Implants by contacting the team, and learn more about this revolutionary treatment.
Dental Implants are versatile and can be used in a variety of restoration cases, including:
Definitively replace missing teeth – unlike crowns, bridges and dentures, which have a limited lifespan, dental implants are a lifelong solution if cared for properly
Restore your confidence and quality of life – with dental implants, you can once again take for granted the ability to eat, speak and smile without discomfort or fear of embarrassment
Look younger for longer – yes really! Because dental implants are integrated into your jaw bone, they keep it supported and prevent the shrinkage that occurs over time when teeth are missing
Reduce slippage of your dentures – Implants have multiple uses, and one option is to use them to fix dentures in place to reduce slippage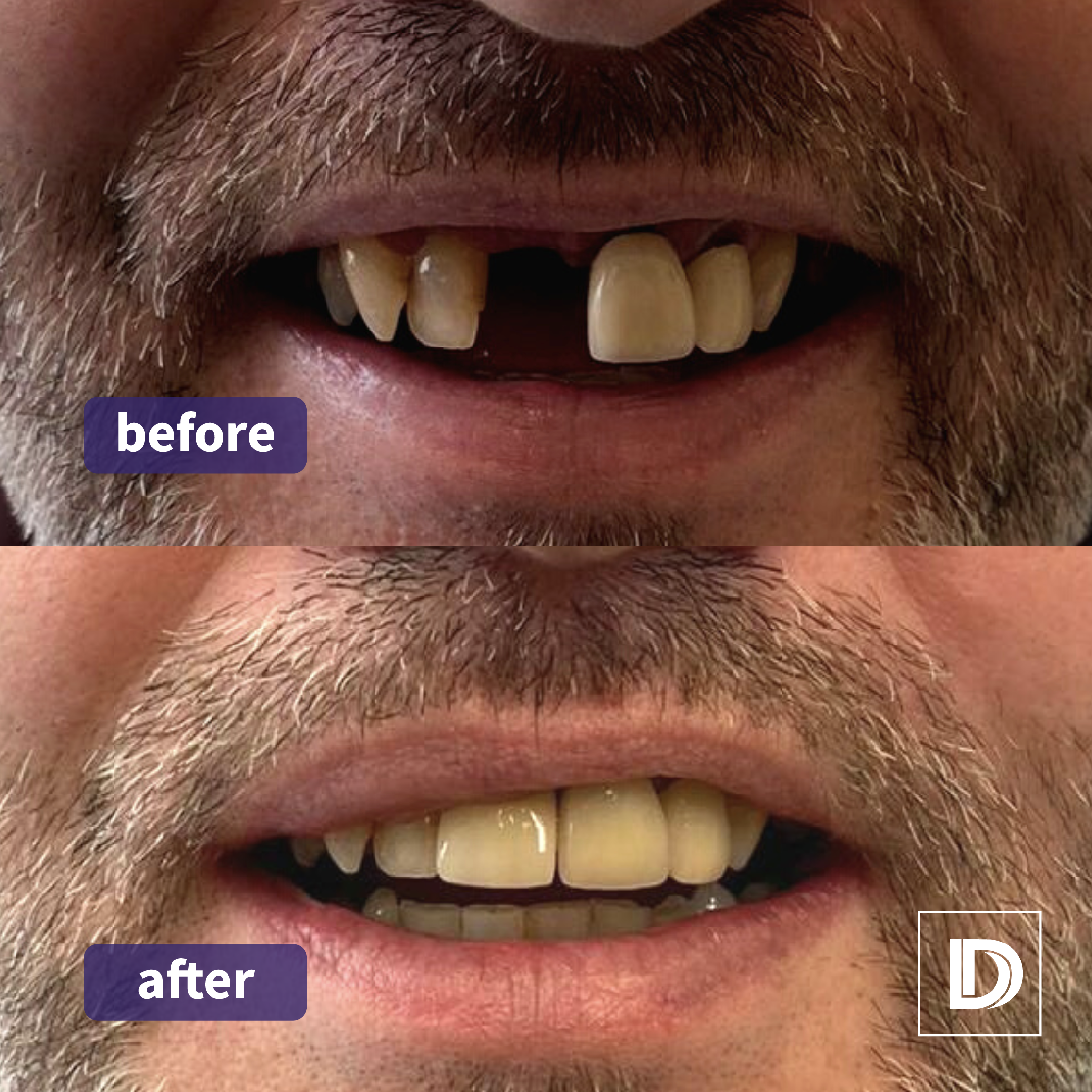 To find out if you're suitable, book a consultation appointment with our Implantologist. They will assess your mouth and decide if treating you with an Implant is the right treatment for you. We will give you lots of information about having an implant to help you make an informed decision. If you decide to go ahead, an assessment is made with X-rays and a CBCT scan to assess the bone quality and the anatomy of your mouth.
On your first treatment visit, the implant is placed under local anaesthetic. Our specialist will give you advice on the care of your implant. You will need a further two or three visits, depending on your choice of restoration. This will be discussed with you. Once the implant has fully integrated into your jaw you should notice improved function when eating certain foods, e.g. apples, especially if you have worn removable dentures previously.
Looking after your implant is also much easier than cleaning under a bridge or dentures. Regular brushing, flossing and dental check-ups, in the same way, that you look after the rest of your teeth is all that is needed. The Implant will look and feel like a natural tooth. Book your appointment with one of our Implant specialists, by calling Darwenside Dental Practice on 01254 703020.
Considering a Dental Implant in Blackburn, Darwen and Bolton areas?
For more information on Dental Implants or any other of our dental treatments, please contact the team.